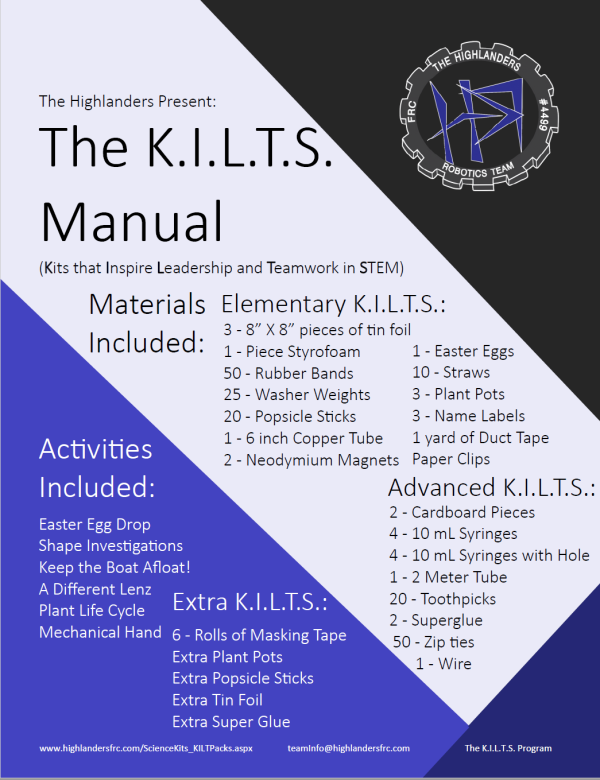 KILT Science Packs
The Highlanders science kits are for grades 4-6. The KILTS v2 is for high school aged kids as well. Our science kits are for our global outreach to inspire kids 4-12 grades. The Highlanders designed these kits to send internationally to orphanages. Currently, we have sent 15 KILTS and 5 KILTS V2 to the Shishu Mandir orphanage in India. For more information read our K.I.L.T.S. manual. In 2018 we delivered 25 kits to 2 international locations. One to an orphanage in India and 15 to another orphanage in Peru! We hope to do that again soon.
The Highlanders started the KILT program in 2019 and have had so much fun we have continued and built our science packs to a bigger impact. We have our first version, and translated it to virtual lessons so we could engage a larger audience. In 2021 we started new KILT packs, transportation themed! We have our airplan kit done and we are working on several others. Check back with us to see more. Email us at teaminfo@highlandersfrc.com If you would like us to send you kits.
The Highlanders designed ans created these kits using simple, commonly used items. Our simple explanation fo the science behind each experiement are designed to take the ideas to the next level. Our kit sets up for hours of fun!